The Interactive Parables is a fun, 3-D game combining lessons from the Parables of Jesus. There are twenty four lessons from Jesus' Parables grouped together by theme. Complete each lesson to win a crown. A great Bible-based product for your family, church's Sunday School or Home School.
Within the game, you will fly, slide, jump, bounce, dodge, search, and solve puzzles in 20 game levels. Meanwhile, you are learning about the lesson based on Jesus' Parables. The Interactive Parables is a great tool to have fun and learn at the same time. With twenty four lessons, it fully covers every Parable told by Jesus Christ. It promotes understanding and retention while providing positive experiences for students.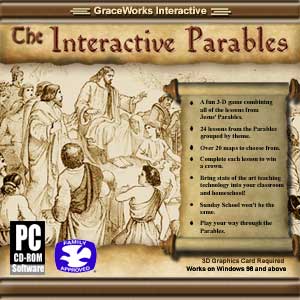 Las Parábolas Interactivas es un divertido juego en 3D que combina lecciones de las Parábolas de Jesús. Hay 24 lecciones de las Parábolas de Jesus agrupadas por por tema. Acompleta cada lección para ganar una corona. Un gran producto basado en La Biblia para tu familia, iglesia o escuela en casa. Estudiants mayores de 10 años lo disfrutarán. Los estudianes más jóvenes pueden distrutarlo también en compañía de sus padres.